Gain new skills and take your bartending career to the next level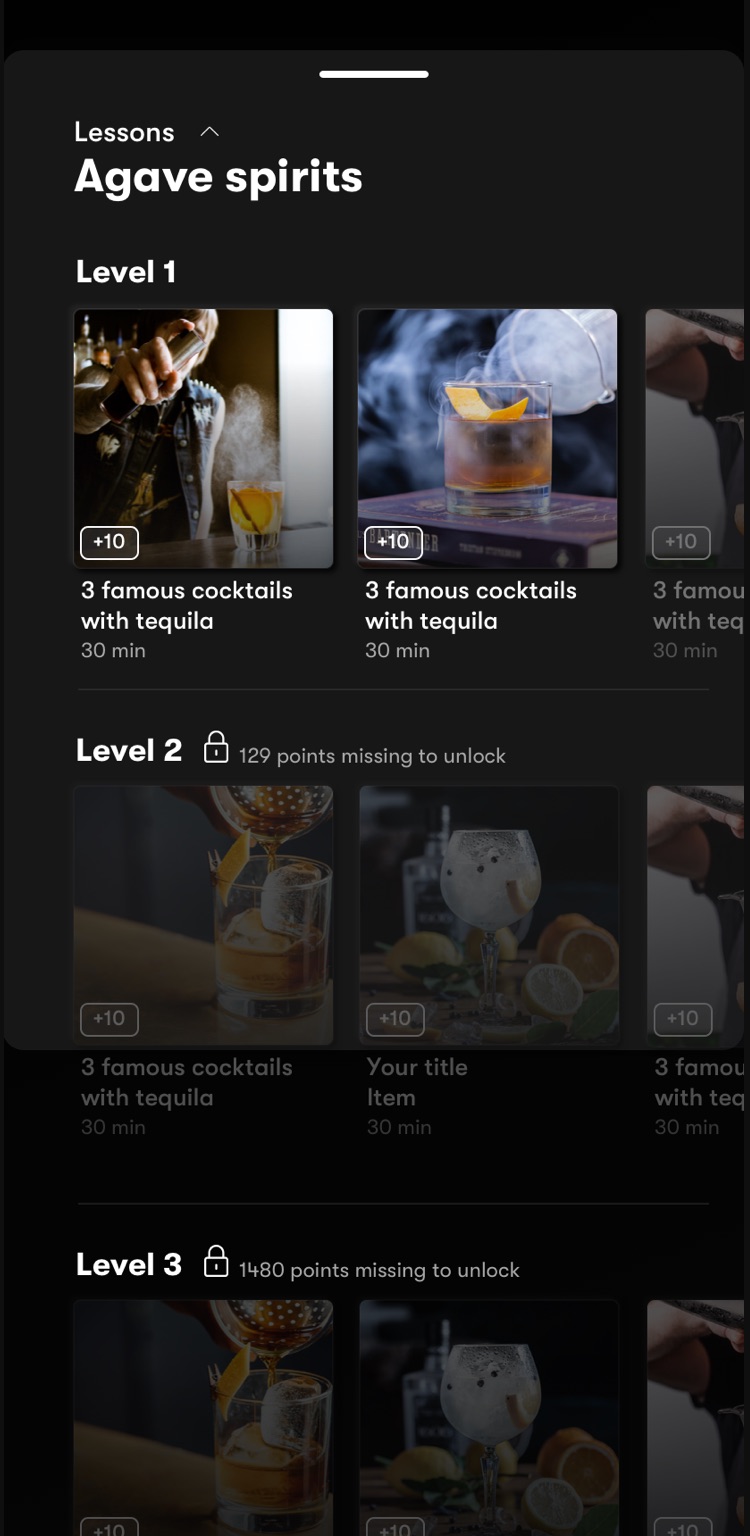 Freepour supports your bartending career by providing a platform to enhance your skills and talent.
---
As the world of bartending evolves, there is more and more demand for pushing boundaries to gain more knowledge. Our online bartending tutorials include mixology courses with short and interactive lessons that use videos, audio, and infographics. You'll learn all the tricks to being the best bartender you can be. Get ready to totally impress your next customer at the bar when you give them more informed drink recommendations!

We like to keep our lessons fun by using entertaining activities that help you improve your skills. Each tutorial you complete and quiz you pass will take you one step closer to mastering the art of cocktail making.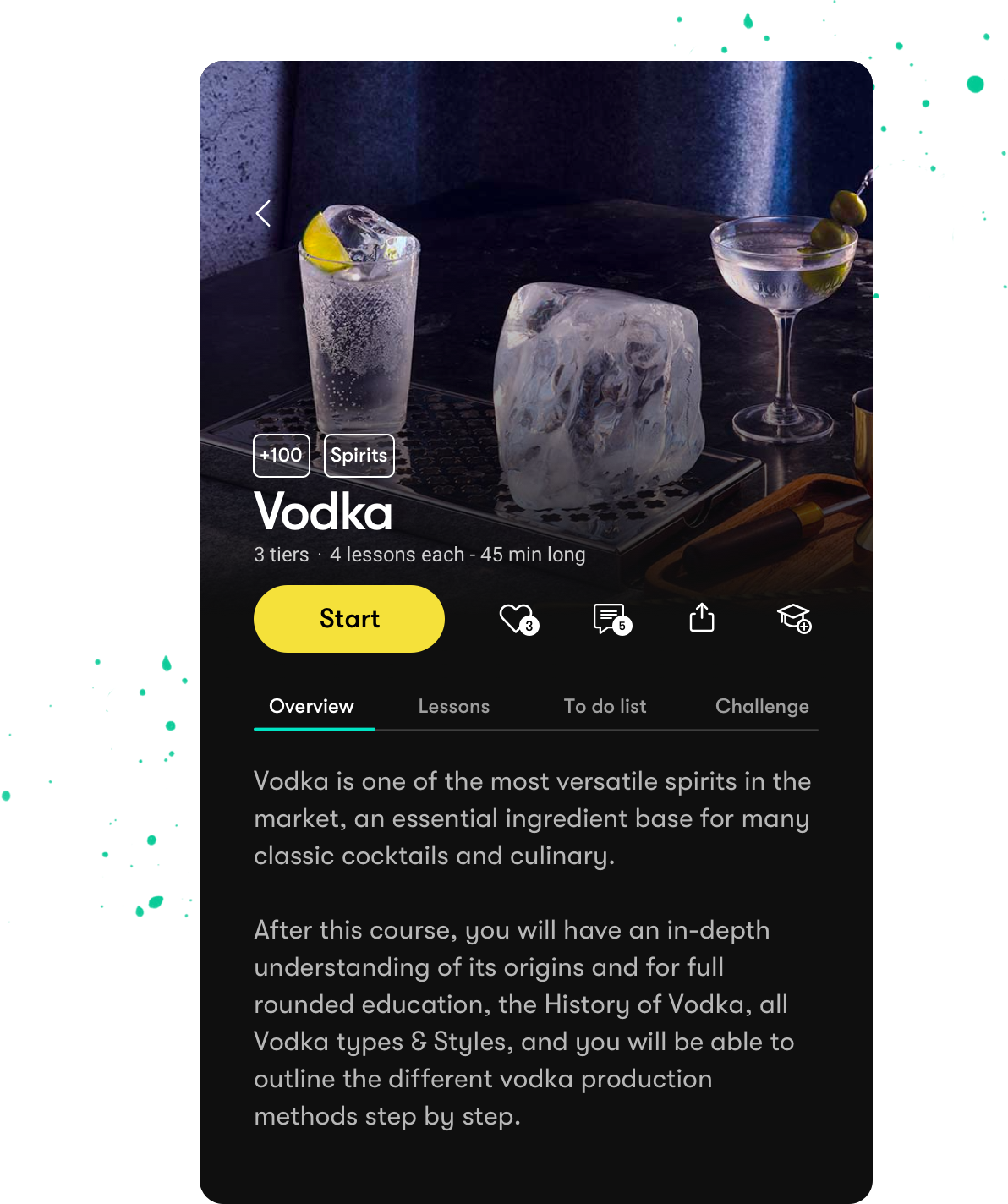 Skill-up
Take a deep dive into bartending with our wide selection of courses covering different topics.

You'll discover everything you need to know about cocktail making, from the history of cocktails and spirits to your favorite cocktail recipes. This will help you learn more recipes by heart and maximize customer satisfaction. We also provide courses on bartender management skills to help get you to the next stage of your career. You are the owner of your journey to becoming a great bartender, so learn at your own pace. Then, after each lesson you can show off your new expertise in a fun quiz.

Interactive courses

You'll learn insider tips, tricks, and secrets to conquering the bar in our interactive courses designed to keep you engaged and entertained while you learn.


See more

Improve your skills

Each bartender has their own process for learning new techniques. That's why our online courses are flexible and customizable.


See more

Level up

Every success leads to a reward. Completing our interactive quizzes gives you the chance to earn points.


See more

Complete To-do lists

We believe in learning by doing. After you complete a course, we encourage you to put any new skills and techniques you learned into practice.


See more

Take notes

Taking notes is an essential part of learning and will help you keep your newfound knowledge fresh.


See more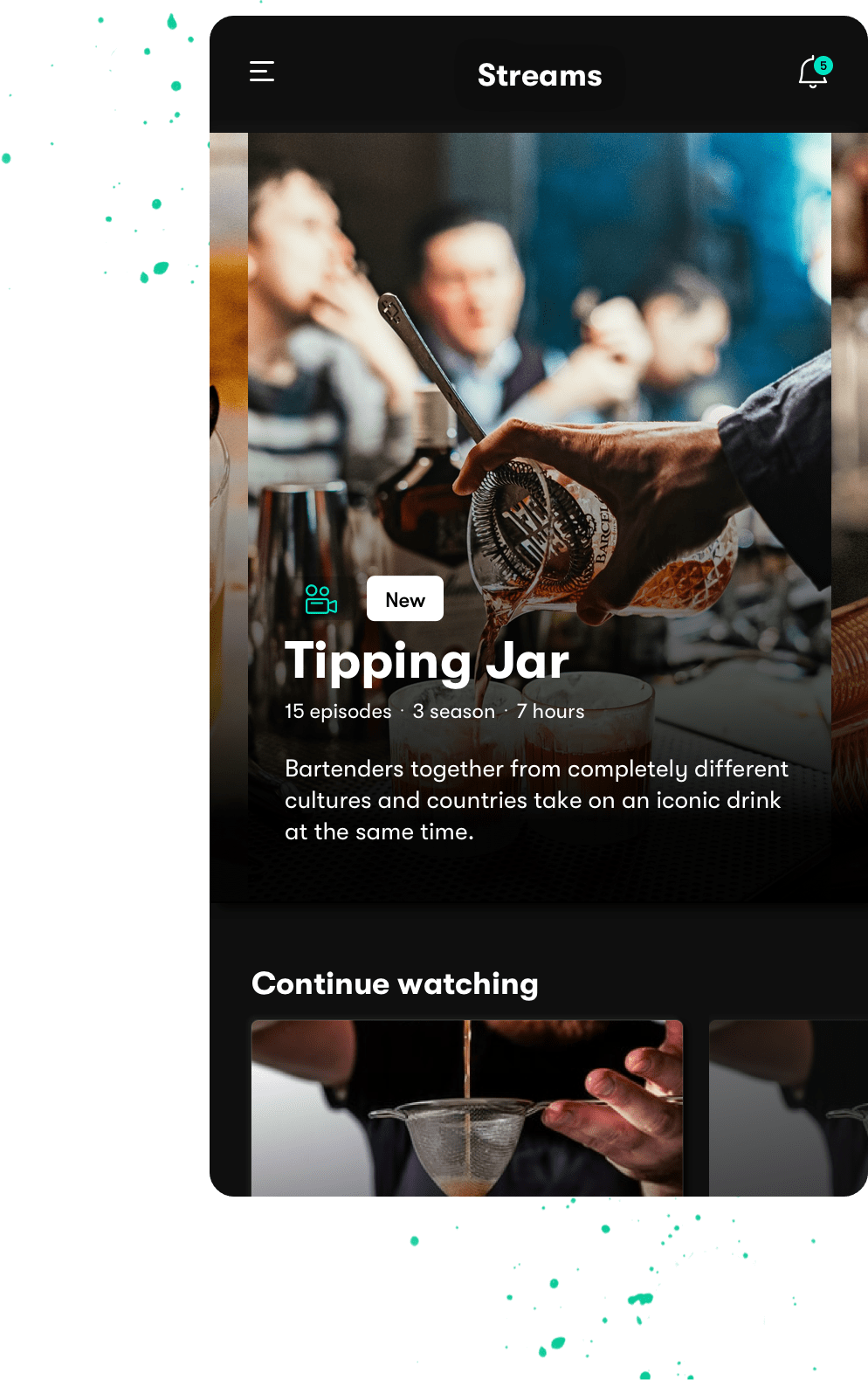 Streams
See experts doing what they do best with our assortment of shows and podcasts.

Tune into our engaging shows and podcasts to experience the world of bartending from diverse points of view. We work with collaborators from around the world to bring you innovative cocktail recipes, inspiring bartending stories, and surprising recommendations. Streams are a great way to see how different bartenders put their skills to good use. They're also a fun way to learn something new and engage with the bartending community at large.

Subscribe to shows

Stay up to date with our expert-created content by subscribing to your favorite video shows.


See more

Tune into podcasts

Listen to a variety of podcasts where bartending experts talk shop and share their experiences.


See more

Save recipes from shows

We make it easy to save recipes from our shows so you can try them out at home or at work.


See more

Filter by content type

Find exactly what you're looking for using our tag filters.


See more