Back to articles
7 South African (Inspired) Libations You Should Be Mixing
Taking a look at some interesting recipes and the stories behind them.

30 May 2022 · 12 min read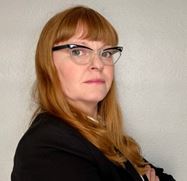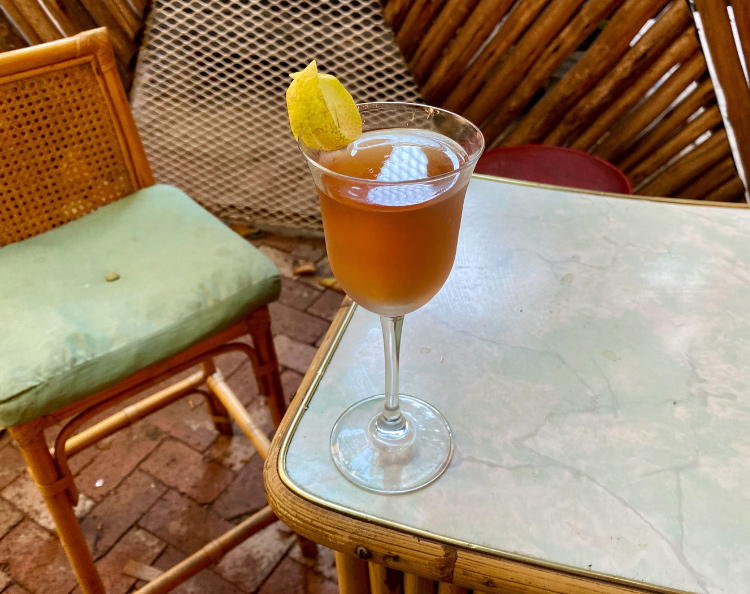 In 1930, one Harry Craddock – head bartender at The Savoy Hotel's American Bar in London – published a recipe book featuring some 750 of the venue's most famed cocktails, namely The Savoy Cocktail Book. At the time, South Africa was a dominion of the British Empire, having settled on being a self-governing union after several scuffles for independence from the Crown. From the British point of view, it was very much a wild place … a land for adventurers and opportunists, many of whom were seeking their fortune on the gold and diamond fields, or forging entirely new lives away from "civilisation". (Of course, this wasn't generally great news for the indigenous population, but that's another story.) Anyway, eleven of the concoctions in Craddock's tome were inspired by this rugged realm at the tip of Africa, allowing those back in Blighty to enjoy some vicarious excitement when imbibing them. Below are a few of these drinks, as well as some other South African (inspired) classics from more recent times.
Barney Barnato Cocktail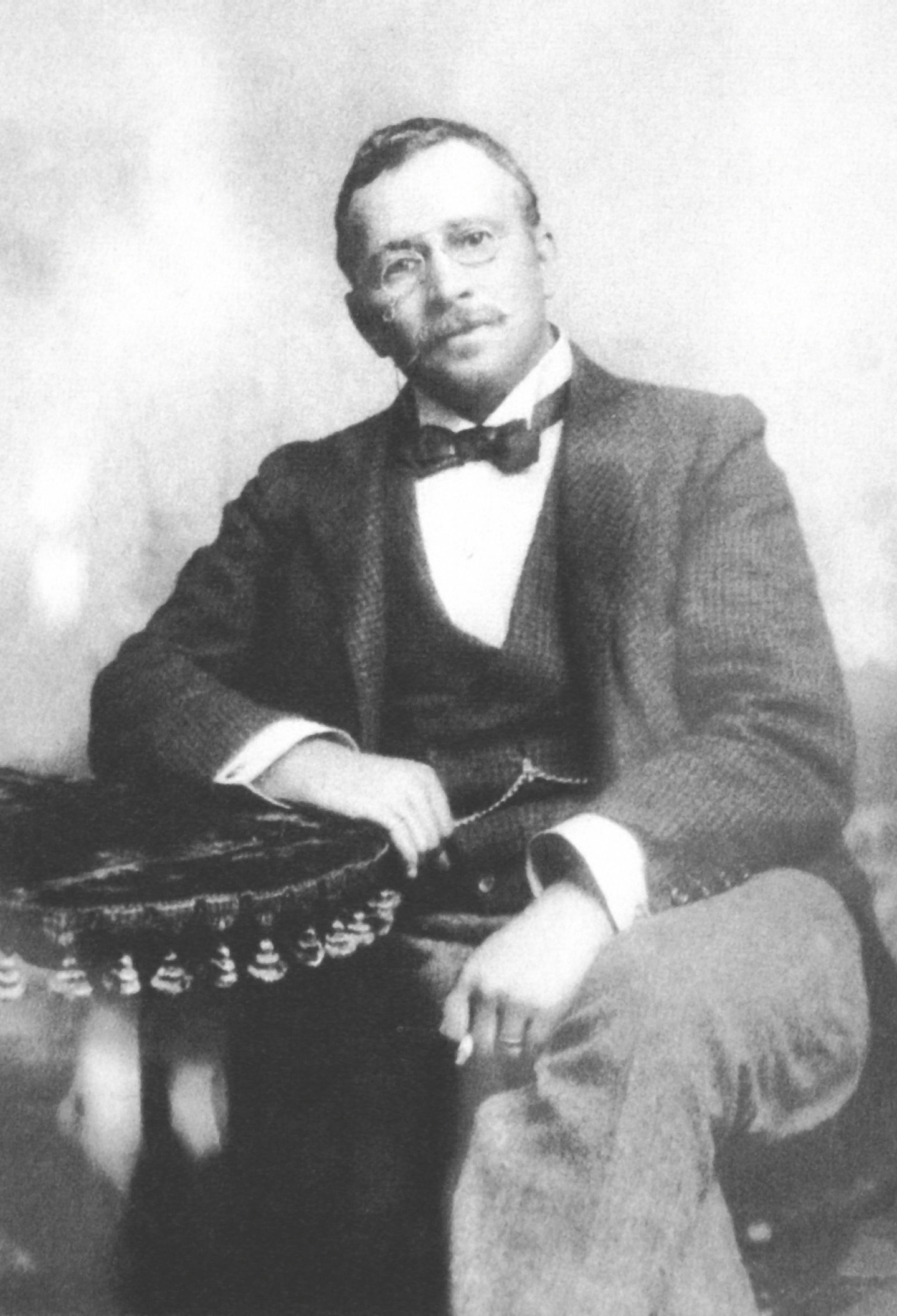 The tale of Barney Barnato is truly a rags-to-riches one. In 1873, at the age of 21, the cockney lad – then named Barnett Isaacs – left his impoverished lifestyle in Whitechapel and hopped on a ship destined for sunny South Africa, and its emerging diamond mine in current-day Kimberley. There Barnett joined his brother Harry's stage act, eking out a living as a comedian and conjurer while trading diamonds on the side. Soon the industrious fellow bought mining claims of his own, changed his name and launched the Barnato Diamond Mining Company. In 1888, aged 36, Barney sold his stake in what had become the Kimberley Central Diamond Mining Company for a whopping four million pounds – as part of the largest cheque that had ever been written, the world over – and moved into politics. He died under suspicious circumstances aged 45, when he "fell" overboard a ship en route back to England. Bar-trivia fans will delight in the fact that Barney's wife Fanny was a barmaid.
Barney Barnato Cocktail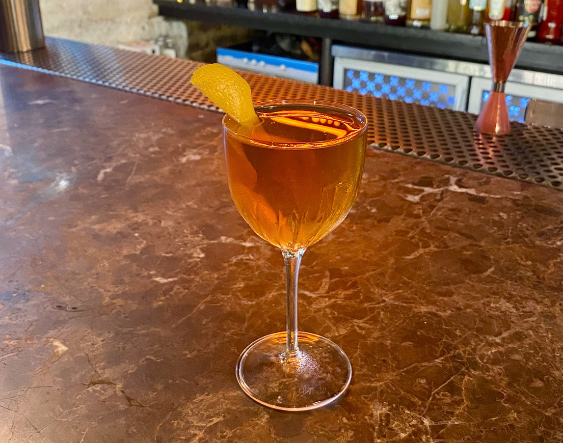 Ingredients
30ml Brandy
30ml South African vermouth
ml Aromatic bitters - 1 dash
ml Orange curaçao liqueur - 1 dash
ml Lemon zest twist (optional)
Method
Stir ingredients with ice.
Strain into chilled glass.
Garnish with lemon zest twist.
Biltong Dry Cocktail
There's no telling precisely when humans first started curing meat, but we can argue that South Africans perfected the artform when they invented biltong. Now, before the British got involved, South Africa was settled by the Dutch, who needed a refreshment station for their trade ships to stop everyone dying of scurvy, and they set up shop at the Cape in 1652. The Brits, who loved a good colony, decided they wanted in on the action, and picked a fight over the prize in 1795. After a number of battles, the Dutch descendants – called Afrikaners – got fed up, and decided to move into the interior. Of course, a trek into unknown lands required provisions, preferably ones that didn't go off. To this end, the Afrikaners adapted a preservation technique long used by the indigenous nomadic San and Khoekhoe people, who used to cover strips of meat with salt and dry them in the sun. Here, the trekkers added in a marinating step using vinegar, and chucked in several spices for flavour, including biltong's signature coriander seeds.
Biltong Dry Cocktail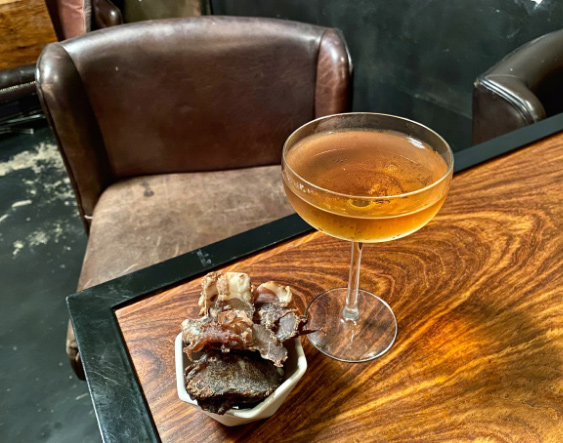 Ingredients
30ml South African vermouth
15ml Sweet vermouth
15ml Gin
ml Orange bitters - 1 dash
Method
Shake with ice.
Strain into a chilled glass.
Spion Kop Cocktail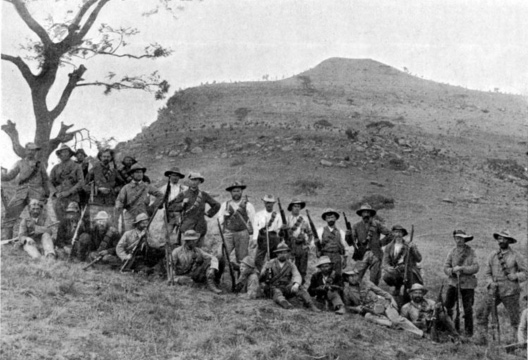 The struggle for control over South Africa didn't end when the Afrikaner boers (or farmers) moved inland with their biltong, and tensions were exacerbated by the discovery of not only Barney's life-changing diamonds upcountry, but also of gold. The Battle of Spion Kop (lookout hill) was part of the Second Anglo-Boer War, in which the Afrikaners were fighting for independence from the Crown. Here, over two bloody days in January 1900, British forces attempted to overthrow the boer siege of Ladysmith, where their centre of operations was being throttled. Despite being enormously outnumbered and outgunned, the scrappy Afrikaners prevailed … so it's rather strange that back in England there was a drink named after a fight in which they were solidly defeated, and that it was immortalised in The Savoy Cocktail Book.
Spion Kop Cocktail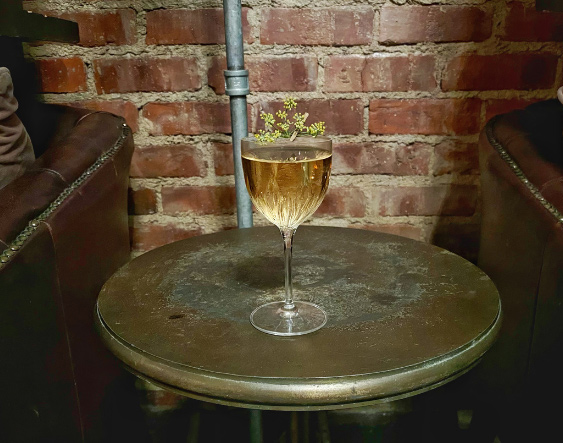 Ingredients
35ml Dry vermouth
35ml South African vermouth
Method
Stir with ice.
Strain into a chilled glass.
Cape Town Cocktail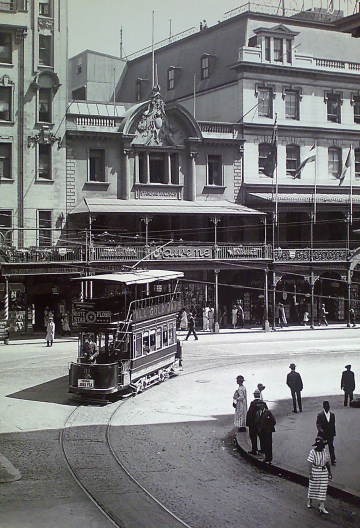 As mentioned above, South Africa was first settled by Europeans in 1652, as a simple coastal pitstop for passing ships. At the time that The Savoy Cocktail Book was published, however, the original colony, which was basically a fresh-produce market, had grown into a full-blown centre of commerce. Cape Town, as it was called, catered not only to the surrounding territory, but served as the capital of the Union of South Africa. As the nation's first metropole, its affectionately called the Mother City.
Cape Town Cocktail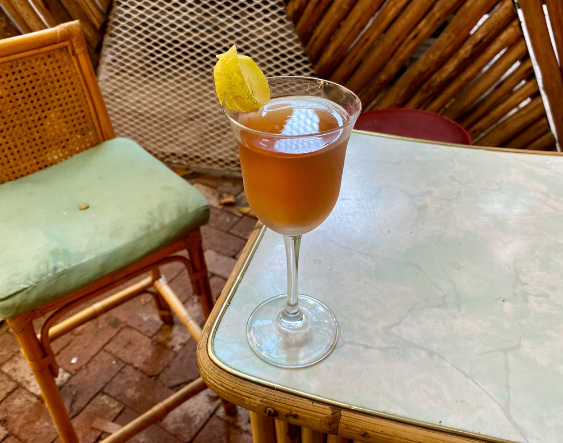 Ingredients
30ml South African vermouth
30ml Whisky
ml Aromatic bitters - 1 dash
ml Orange curaçao liqueur
ml Lemon peel garnish
Method
Stir over ice.
Strain into a chilled glass.
Garnish with a lemon peel.
Porn Star Martini Cocktail
While you're likely familiar with this notorious cocktail, invented by the late, great Douglas Ankrah, you might not know that despite it being made famous in London, its roots actually lie in Cape Town. Douglas, you see, went to the Cape around 2000 to open a franchise of this London bar, LAB. There, he frequented the local drinkeries, including a gentleman's club called Mavericks, beloved for its exotic dancers. Legend has it that was it there that – inspired by the women's dazzle and bling – the drink was conceptualised, initially being called the Mavericks Martini Cocktail. Later, when he took the recipe back to London, Douglas changed the name. It's not, of course, in The Savoy Cocktail Book.
Porn Star Martini Cocktail Recipe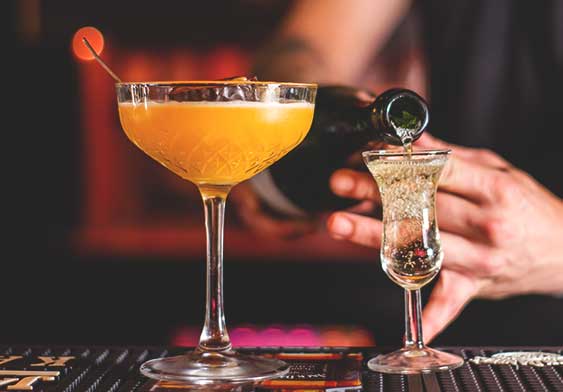 Ingredients
60ml Vanilla Flavoured Vodka​
30ml Passion Fruit Liqueur
75ml Passion Fruit Purée​
ml 2 Flat bar spoons of home-made vanilla sugar​
30ml Champagne 
Method
Fill Boston shaker with all ingredients (but champagne) and shake with ice
Fine strain into a chilled cocktail glass
Garnish with half of a whole passionfruit
Complete drink with a shot of champagne on the side
Don Pedro Cocktail
Another newer cocktail, the Don Pedro (also sometimes going as Dom Pedro) was designed in the 1970s. It's essentially a boozy milkshake made with vanilla ice-cream and whisky, but you can request whatever poison you prefer when ordering. Like most cocktail-origin stories, its exact genesis is murky. Those in Cape Town attribute it to Danny Ferris, owner of Belinzona restaurant in Blouberg, who apparently got the idea when served whisky over ice cream on a visit to Scotland. Up in Joburg, it's said to have been created by Mike Illion, proprietor of the popular Mike's Kitchen steakhouse in Greenside. Regardless, it was a roaring success, and became a staple fixture on South African dessert menus countrywide for the next three decades at least, and it still commonly enjoyed today.
Don Pedro Cocktail
Ingredients
ml Vanilla ice cream - 3 scoops
50ml Whisky or liqueur of choice
50ml Cream
Method
Drizzle chocolate into inside of glass.
Blend ingredients until smooth.
Pour into glass and insert straw.
Springbok Short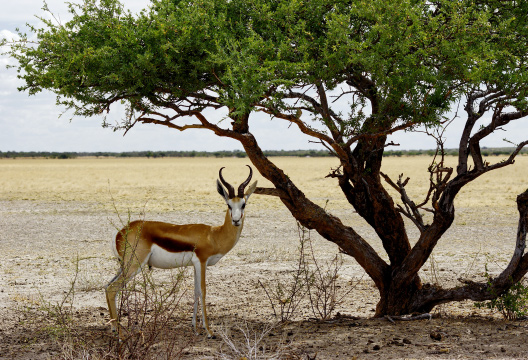 Also going by the Afrikaans diminutive "Springbokkie" because of its small size, this short drink is named after the springbuck, the national animal of South Africa. More accurately, though, it's to honour the South African national rugby team, nicknamed the Springboks (Afrikaans for "springbuck"), whose colours are green and gold. It's unclear when the drink was invented, or by who, but it gained traction in the 1990s, particularly after the Springboks won the Rugby World Cup in 1995. South Africa had just held its first democratic elections the year before, post Apartheid, and patriotism was at an all-time peak, which certainly contributed to its popularity. Some enthusiasts will go so far as to perform a little ritual before consuming it, namely putting their hands above their ears, with their index fingers pointing upwards like horns. They'll then stamp their feet, snort and squeal, like the antelope the drink is named for, before using their teeth to pick up and sip the drink, hands free.
Springbok Short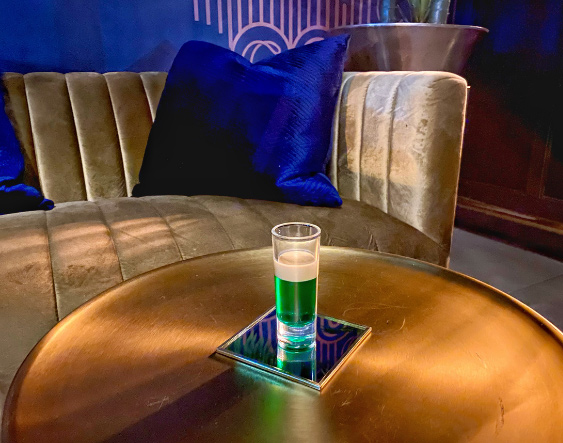 Ingredients
30ml Peppermint liqueur
10ml South African cream liqueur
Method
Pour peppermint liqueur into tot glass.
Use the back of a barspoon to carefully layer the liqueur on top.
———— The views and opinions expressed in this article are those of the author and do not necessarily reflect those of Freepour.